zedas®asset: Linear Asset Management for Rail Infrastructure
The management and maintenance of linear infrastructure is characterised by very specific and complex requirements. ZEDAS has been developing and managing software solutions in challenging projects for linear- and technical asset management since 1994. The development of zedas®asset is based on these experiences.
zedas®asset continuously supports you with the management of inspections, maintenance planning and monitoring of rail infrastructure. Incidents and faults are recorded to the exact chainage (metre/kilometre) and/or GPS coordinates. All basic asset information of linear- or non-linear infrastructure objects (Rails, Catenary, Switches, Signalling, etc.), measured data as well as results from sight inspections are used in zedas®asset to analyse and evaluate the current condition of your infrastructure at any time, taking into account all influential stress factors. These information is the basis for calculating, planning, managing and monitoring of maintenance processes according to regulations and based on the up-to-date condition.
All recorded data is historicised (e.g. incidents, corrective- or preventive maintenance, component changes, meter readings, etc.). This data is available to the operator for the entire maintenance cycle without any additional input effort and can be accessed on-site using our mobile solution zedas®smart.
The zedas®asset functionality allows monitoring of entire infrastructure systems: tracks, catenary, third rail, switches, signalling control systems, rail power supply, bridges, buildings, stops, stations, escalators or any other related technical asset.
Asset Management of Railway Infrastructure by:
Integration of operating data (tonnage, run overs, etc.) or measured data (gauge, cant, twist, etc.)
Analysis of recorded data for detailed condition assessments and asset weak point detection
Visualisation of networks and non-linear objects (incl. asset basic data, history or condition)
Track Analyser (analysis of attributes and measured data for linear assets)
Tracking of incidents (defects, faults, etc.)
Recording of asset- and event position (metre, kilometre or GPS position)
Automatic schedule/due date planning (based on time, loads or condition)
Management of inspections and maintenance activities linear-/non-linear infrastructure
Monitoring of warranties down to component level or track metre
Mobile support on-site (zedas®mobile for maintenance, measurements and inspections)
Railway terminology and nomenclature
Extensive reporting functionality (validation of existing business processes)

Special attention was paid to the necessity of incorporating service partners and to the integration of measured data during development. Key elements of the zedas®asset solution support the IDMVU data model with the VDV 456 standard interface.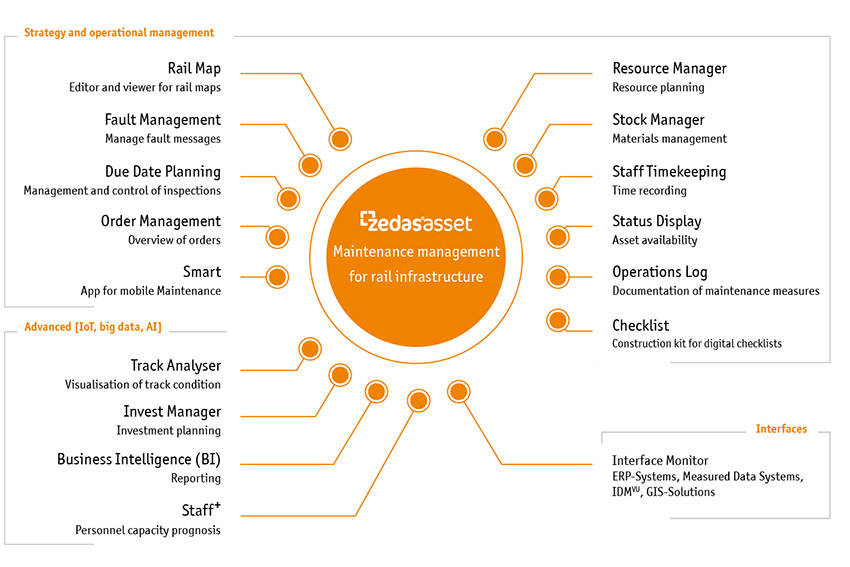 ---
Download
| | | | |
| --- | --- | --- | --- |
| | | | |
| Management solution for rail infrastructure | Track Analyser - Condition analysis for railway infrastructure | App for mobile maintenance of railway infrastructure | Invest Manager - Investment planning |