Free whitepapers and documentation
We have created various whitepapers with checklists and practical tips for you. You can download all documents free of charge.
---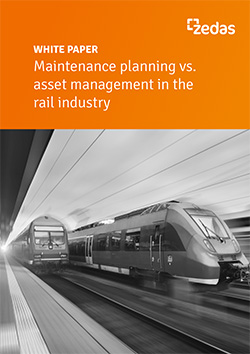 Maintenance planning vs. asset management in the rail industry
Many companies in the railway industry are concerned with maintenance planning and asset management. But what exactly is meant by this and what is the difference? This whitepaper gives you an overview of the differences and the benefits of such systems.
Who is this whitepaper suitable for?
Railway infrastructure owners and infrastructure managers of railway facilities
Railway undertakings with their own rolling stock
Manufacturer
Holder and Operator
Workshops and Maintenance service providers