zedas®asset: Management Solution for Railway Vehicle Fleets
ZEDAS has been developing and managing software solutions in challenging projects for fleet maintenance and technical asset management since 1995. The development of zedas®asset is based on these experiences.
zedas®asset is the perfect solution for Asset Life Cycle Management of railway vehicle fleets. It allows you to evaluate the actual vehicle condition during the whole life cycle based on up-to-date loads and data assessments. Manufacturers, operators, maintainers, investors as well as leasing companies can optimise different aspects of the technical management of their vehicles.

Our solution supports you with
reducing maintenance costs
minimising downtimes and faults
enforcing warranty claims
validating LCC/RAM agreements
You need data transparency to consistently improve the company and costs. This is provided by using our zedas®asset solution to generate economic figures online (life cycle costs, reliability/availability/maintainability/safety). Analysing functionality allows to calculate trends as well as prognosis.
Here's an overview of important functions:
Condition monitoring
Maintenance planning and control
Seamless documentation of maintenance history
Tracking of guarantee and warranty claims even at individual component level
Analysis of weak points and series errors based on mounting position
Implementation and documentation of vehicle modifications
Mobile data acquisition and diagnosis with rule-based triggering of actions
LCC-/RAMS validation
Automation of workshop procedures
Fast access to relevant, up-to-date information and invoice data
Reporting on a daily basis
Wheelset database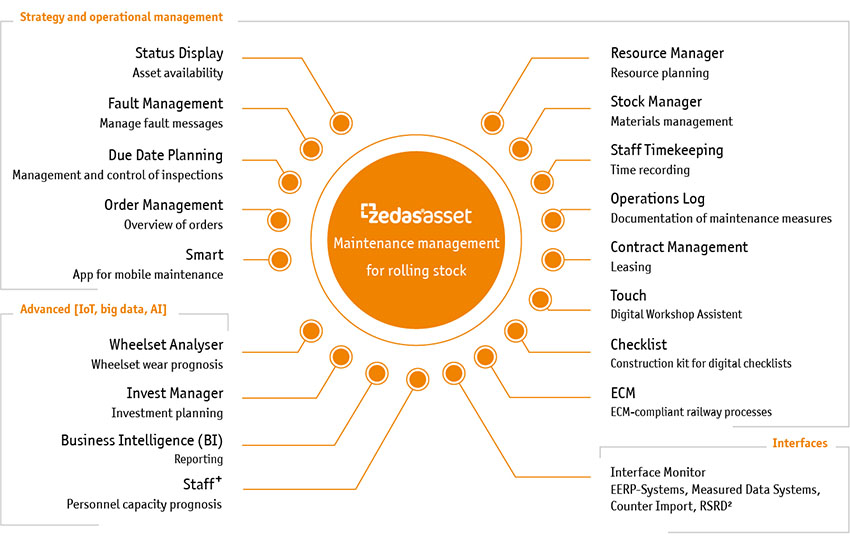 Support in the continuous improvement process
zedas®asset supports you in all processes of asset management from data acquisition to forecasting. The software serves as a central platform both in the maintenance organisation and in the processing of orders in the workshop.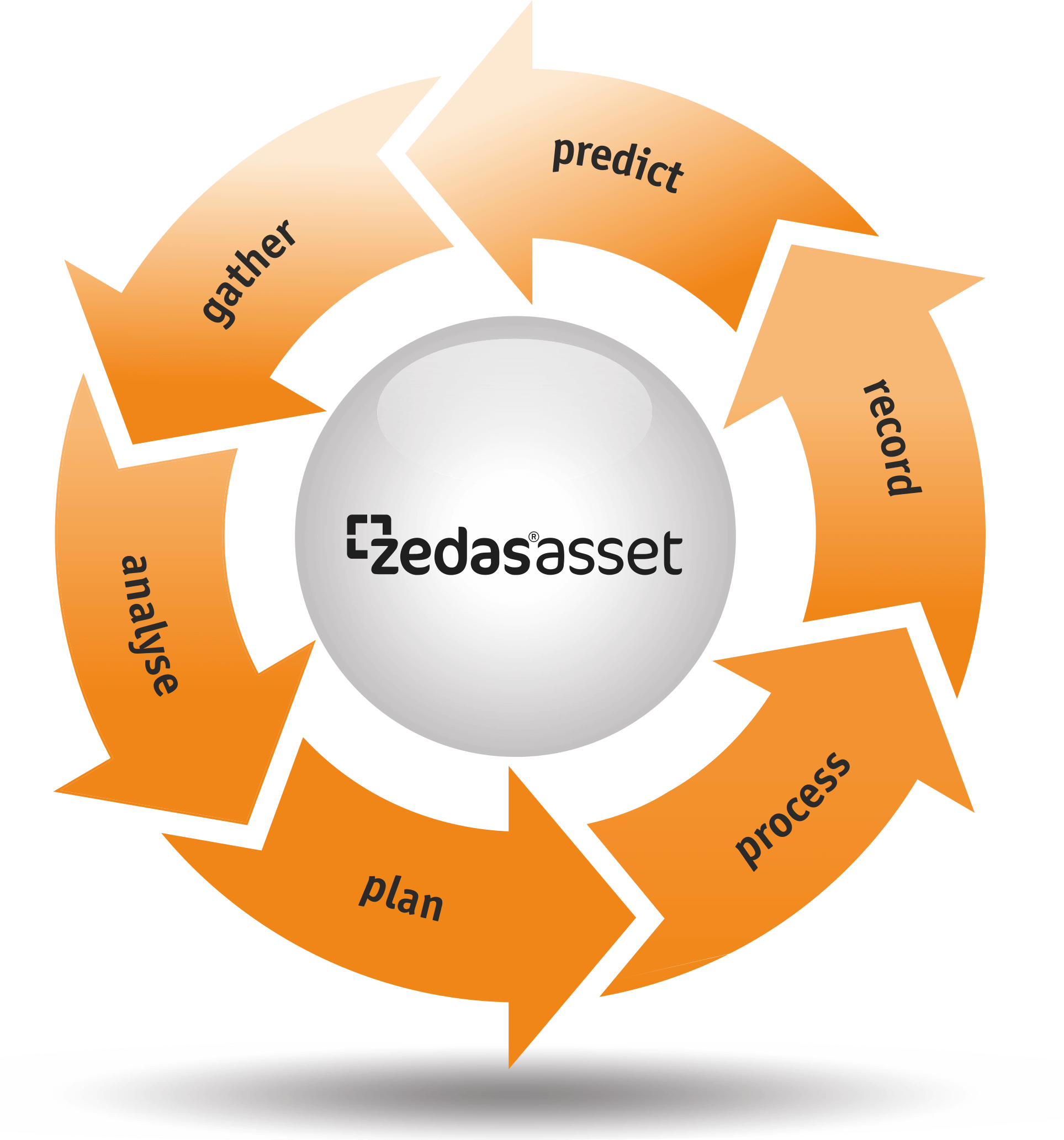 Data collection: Access condition data straight from the vehicle OBU. Record measuring data during maintenance and load/stress data during operation.
Analysis: Analyse condition information to detect any critical issues.
Planning: Plan corrective and preventive maintenance,
Processing: Use checklists and work packs to process your maintenance jobs.
Documentation: Document vehicle condition information, component changes and the use of resources.
Forecasting: Forecast the future vehicle condition on the basis of current and historcial data, and plan maintenance on that basis.
---
Download
| | | | |
| --- | --- | --- | --- |
| | | | |
| Management solution for vehicle fleets | Resource Management | App for mobile maintenance of rail vehicles | Invest Manager - Investment planning |