zedas®cargo – The logistics software for mainline traffic
As a rail operator, are you in competition with other modes of transport in long-haul traffic?
As a rail freight company (RFC) and/or forwarding agent with block trains or in combined traffic, you pursue the following goal: Rendering first-class transport and other services by means of an efficient process chain, high quality and performance. In this connection, continuous data communication to customers and partners is particularly important for you.
Then secure your competitive edge through zedas®cargo.
In daily business, rail freight companies are confronted with the following questions:
How can I plan personnel and locomotives in an easy and efficient manner?
How can I quickly react to deviations from the plan?
How can I supply my customers and partners with information in a reliable manner?
How can I settle services completely and quickly?
zedas®cargo, the integrated IT solution for rail freight transport, helps you answering these questions. Optimise your resources with an improved planning process, simplify the operational management and transport monitoring of your freight traffic on the railway and invoice your orders in a reliable and transparent manner.
More information on the functional scope and advantages of the solution is provided on the following pages.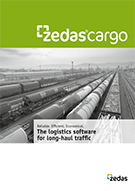 The logistics software for mainline traffic
"Have we piqued your curiosity? Then contact our Head of Sales, Chris Richter. He will be happy to answer any questions you might have."