Mobile assistance systems: Digitization and optimization of railway maintenance
The most frequently asked questions about ZEDAS mobile solutions
ZEDAS GmbH invited to a new webinar this year and thus successfully continued its series on current topics in the railway industry. This time the focus was on the mobile applications of zedas®asset and how mobile assistance systems provide extended support in the maintenance process. Afterwards, we took up some questions from the participants and asked our speakers in more detail about some topics.
The reason why you presented this webinar is based on a central question that many participants always ask themselves: Can mobile assistance systems support me at all in railway maintenance and if so, how?
Christian: Mobile solutions are always part of an end-to-end process that primarily involves collecting data that my assets provide me with. The whole thing is embedded in an analysis and the question: What information do I gain for maintenance? In this case, the mobile solutions are an important data source. The goal is therefore to support the entire process and to enable digital data acquisition and documentation at every point in the process. Mobile solutions primarily support the area of data collection (e.g. for people who are working outside in the field), but this also affects the staff who are processing the maintenance tasks and who ultimately have to document the measures in accordance with the applicable regulations.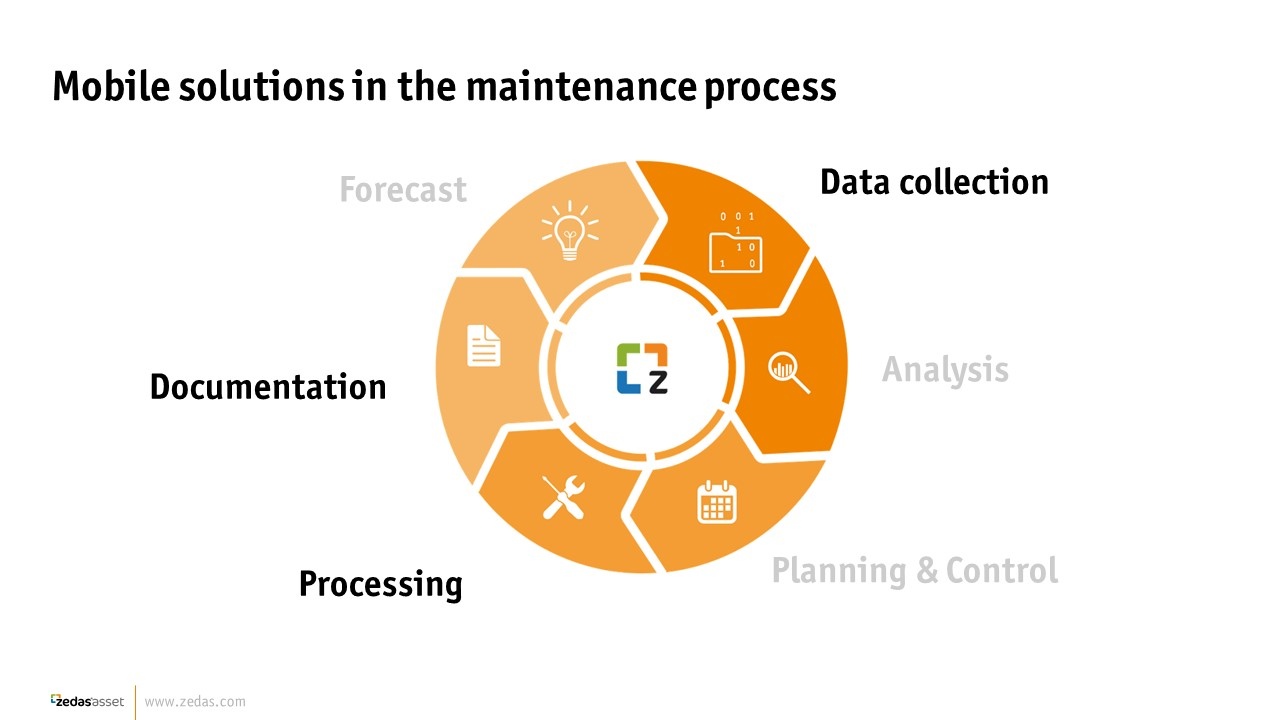 In the webinar you focused primarily on the maintenance of rail vehicles and showed the app zedas®asset Smart in a live demo. Afterwards, some participants asked whether ZEDAS also had the intention of developing a similar app for the infrastructure sector?
Krzysztof: zedas®asset Smart is already available for the railway infrastructure sector and is structured in the same way as the app for rail vehicles. Faults and defects in the infrastructure objects can be recorded, processed and documented directly on site. Since infrastructure assets are static, there are various ways of using GPS modules for infrastructure management, which are installed in all smartphones today. This makes it easy to integrate precise GPS data into the recordings (e.g. when recording faults).
One question we often come across is that of the end devices. What types of mobile devices are supported by zedas®asset?
Krzysztof: The mobile solutions from ZEDAS can be used on all smartphones and tablets, regardless of the device. As far as operating systems are concerned, we do not make any restrictions here either; the solutions are available for Android and iOs.
Is there an active internet connection required to use the mobile applications? If not, how does offline data processing and synchronisation work?
Christian: zedas®asset has an integrated offline functionality so that no permanent data connection is required for use. This ensures self-sufficient work even without a stable network connection. In addition, our software has an integrated synchronisation mechanism that automatically synchronises data with zedas®asset as soon as there is an active internet connection again (e.g. via WiFi or mobile phone).
Let's take a deeper look into the software and address frequently asked questions from participants when it comes to ZEDAS mobile solutions. What measures are in place to ensure data integrity and prevent unauthorised access to maintenance-related information on mobile devices?
Krzysztof: This is done via a rights-roles concept and client administration. Data managed centrally in zedas®asset can be made selectively accessible in order to integrate the various company-internal locations, departments, employees and external partners, customers, etc. into the system. This regulates the access of the individual users to units, processes and master data within a database. An example: people can only see vehicles, systems and components, certain orders or a certain status if they have been released and granted the right to view this data.
---
Webinar
Digitize and optimize maintenance with mobile assistance systems
In the webinar, we will use various use cases to show you how mobile assistance systems provide extended support in the maintenance process.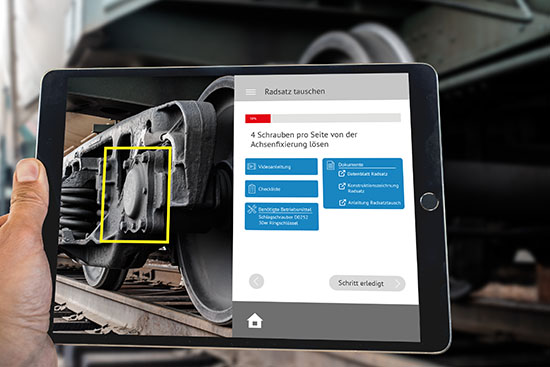 ---
Many railway companies use an ERP system. Can the zedas® software be connected to such an ERP system?
Krzysztof: Yes, there are various standard interfaces to ERP systems, which we have already successfully implemented in a large number of projects and which are being used productively by customers. ZEDAS follows a standardization approach - this saves time and money for the customer and guarantees our customers the security of a successful implementation.
If a company decides to change completely to the zedas® system: Can the previously existing data from an old system be transferred to zeda®asset? If so, how?
Krzysztof: This is done via corresponding standard imports. Via these imports, the data and the most diverse formats can be migrated from a legacy or inventory system into zedas®asset. We at ZEDAS also support the customers with our know-how and our experience from other projects in defining which data should be transferred and which should not.
Let's take a closer look at mobile working in the railway workshop: To what extent is it possible for several employees to work on the same job?
Chrisian: The work orders can be divided into different work packages so that several users can work on one order. Each employee can take his or her assigned work package from the order, work on it and then report back.
In addition, parallel work is also possible in the workshop, e.g. with the checklists. This means that two employees can work on a checklist at the same time. If another user is working on the checklist, the changes are reloaded via a short feedback to the other user. Different material bookings, component exchanges or time bookings can be made simultaneously by several employees on the same order item.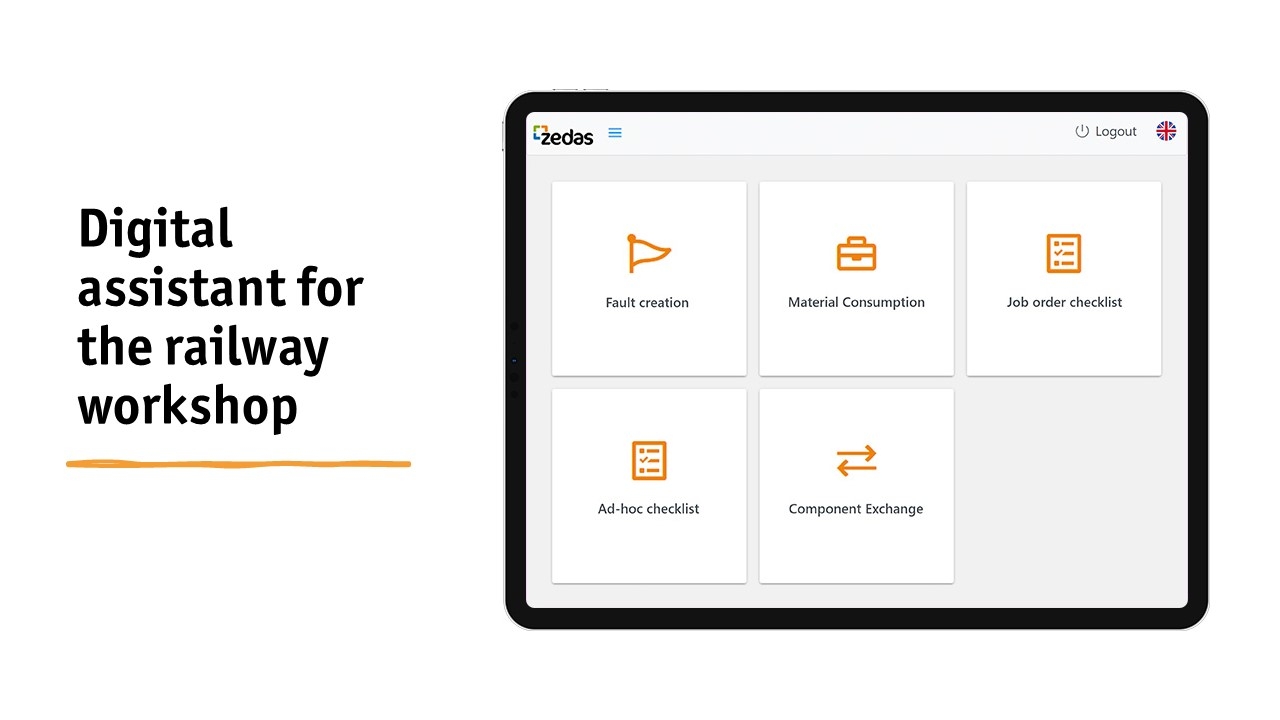 Can the mobile solutions also be connected to various software systems of the maintenance machines in the workshops? For example, to integrate the reports generated by the machine into the zedas® app?
Krzysztof: Our mobile solutions are intended as an integrated part of the Enterprise Asset Management System (EAM) zedas®asset, which - as with the ERP system - can be connected to various external, local solutions as well as to machines and measuring devices. So there is the possibility to display the reports in our mobile apps.
How is the vehicle released after the order is completed?
Krzysztof:zedas®asset offers the possibility of independent configuration of workflows for mapping various operational processes in logistics and maintenance, the associated work steps and their linkage to specific standard processes (predecessor and successor relationships). This functionality is used across different modules and enables proactive user guidance within the different processes. As one possible example, the release process for the operational release (ECM 4) and the subsequent recommissioning of vehicles (ECM 3) can be mapped completely digitally, including ECM-compliant documentation.
Let's take another look into the future: What about the future topic of artificial intelligence (AI)? How can this be used in the railway industry?
Christian: DThe potential for the use of artificial intelligence is definitely existing. For example, together with our practice partner - BLG RailTec - and the BTU Cottbus-Senftenberg, we designed a first prototype for an augmented reality (AR) app. With this app, the maintenance technician is guided step by step through the maintenance process. Clearly defined workflows specify the exact sequence and the positions at which the work steps are to be carried out.
On the other hand, we have developed an AI-based wagon number recognition system that reduces manual entry processes. This will be integrated into all our mobile applications in the future. If the camera is pointed at the wagon area with the UIC wagon number, the AI automatically recognises and analyses the exact position of the number, the text characters and checks the recognised UIC number.
So there is still a lot of (development) potential and we will see how the journey continues in the future. The first signals from customers are definitely positive and our customers already have new ideas for other practical fields of application.
---
Book your personal software demo
Take the chance and book your software demo. Which functions are you interested in and which goals would you like to achieve with zedas®. We will be happy to help you and arrange an appointment with you.
Book a software demo now
---
Can ZEDAS mobile assistance systems be integrated with predictive maintenance algorithms or machine learning models to provide real-time insights or recommendations?
Krzysztof: zedas®asset brings together all data in the maintenance process centrally and evaluates it continuously in all directions. In this way, the user always has an overview of the current condition of his vehicles and infrastructure. Based on the data, predictive maintenance is possible, which avoids unnecessary maintenance interventions and unplanned downtimes.
What is your conclusion in the end? What are the advantages of mobile solutions in maintenance?
Christian A distinction must be made here between the benefits for management and the benefits for the end user. From the management perspective, the advantages of mobile assistance systems are clear:
An efficient, digital process chain is set up.
You save a lot of time with a central platform and digital documentation.
An increase in employee satisfaction can be achieved since processes are supported and double data entry is no longer necessary.
Finally, the management level has a complete and consistent database. This serves as the basis for meaningful forecasts from a technical and commercial point of view.
On the user side, the advantages can be summarized as follows:
A continuous and digital maintenance process is established. This is accompanied by the availability of data in real time for all participants directly at the vehicle or on site - this minimises time-consuming coordination and queries.
Subsequent entry of paper documents, for example, is no longer necessary, which saves valuable staff time and prevents incorrect entries.
The effort for data preparation is significantly reduced.
There is also a reduction in the documentation effort for verification, such as. e.g. the documentation according to the ECM regulation.
• Last but not least, this increases the attractiveness of our customers as interesting employers in search of qualified specialists.
Thank you, dear Christian and Krzysztof, for the interview!
Christian Krauss
International Sales Manager
ZEDAS GmbH

Krzysztof Łukasik
Business Development & Sales Manager
ZEDAS GmbH
---
Read more about zedas®asset - Software for Asset Management
---