zedas®cargo – The logistics software for shunting traffic
Whether it's transfer work, factory shunting services or train formation – as a logistics specialist in rail freight transport, you organise all of the services dealing with the "last mile". You want to manage the volume of transport at your factory, port or terminal reliably and quickly, and make optimal use of your resources in the process. Here, you see the use of new technologies for the digital integration of all partners and customers involved as an important step towards improved transparency and quality in your services.
With zedas®cargo, we help you to master these challenges.
The following questions often come up in shunting operation:
How do I maintain an overview of current wagon locations, delivery and pick-up jobs at all times?
How do I effectively plan and monitor my shunting movements?
How can I reduce the need for coordination between dispatchers and shunters?
How do I optimally manage collaboration between loading points and shunting scheduling?
How can I precisely document and invoice my shunting costs?
With the logistics software for shunting traffic from ZEDAS, you choose an efficient and economical solution, which helps you to answer these questions. Our solution ensures that all processes between dispatchers, shunters and customers are seamlessly integrated and the degree of coordination is significantly reduced. You are thus able to plan, monitor and document processes more quickly and more transparently. Delays and waiting times during transportation are prevented and the traffic flow on the works premises is improved.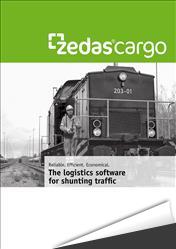 Logistics software for shunting traffic
More information on the functional scope and advantages of the solution is provided on the following pages.
"Have we piqued your curiosity? Then contact our Head of Sales, Chris Richter. He will be happy to answer any questions you might have."