Cooperation Award of the Society of the Lausitz University
19-04-2013
The PC-Soft GmbH was awarded by the Society of the university of applied sciences with the Cooperation Award.
The chairman of the association, Andreas Fredrich, was pleased to be able to thank a particularly longstanding partner of the university PC-Soft GmbH, and presented impressive examples of the intensive and successful cooperation. The university and the company are closely linked through numerous projects and have been awarded in 2001 jointly with the Technology Transfer Award of Brandenburg.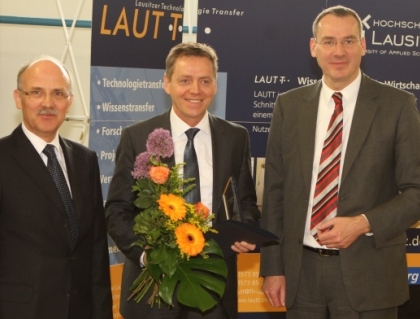 Award ceremony (from left): The President of the Lausitz University, Prof. Dr. Günter H. Schulz, Managing Director of PC-Soft GmbH, Wolfgang Jahn, chairman of the Society of the Lausitz University and Mayor of Senftenberg, Andreas Fredrich.