Optimise maintenance of railway vehicles
Fault recording and maintenance documentation in real time thanks to mobile assistance systems
More and more companies are relying on clever assistance systems and mobile apps to facilitate and optimise the data collection, processing and documentation of maintenance measures. ZEDAS GmbH also offers such a solution with its standard product zedas®asset - the software solution for the asset management of railway vehicles and railway infrastructure.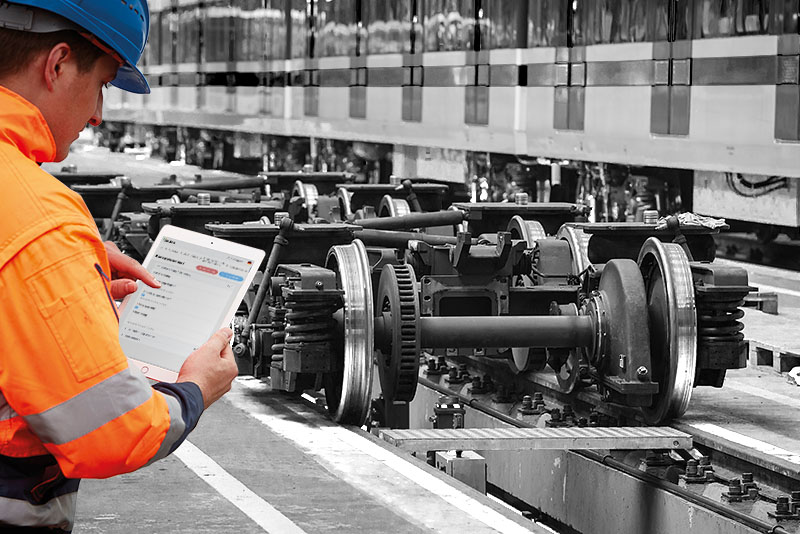 Example: A train attendant works in SPNV and is responsible for monitoring and controlling train journeys. During his shift he discovers several faults in the train, such as graffiti on the walls, a damaged toilet and a door that does not close properly. To ensure that the faults are fixed, the train attendant has to record them on paper and forward them to the responsible department. To do this, he fills out a form on which he notes down the type of fault, the location and a brief description. This information is then forwarded to the maintenance department of the company to carry out the necessary repairs or cleaning. Previously, the faults on rail vehicles were often recorded by hand on paper forms and later entered manually into the maintenance management system. This led to a high need for coordination between the departments.
The zedas®asset Smart app focuses on this point and makes it possible to digitally record faults directly on the vehicle. The app offers an intuitive fault catalogue and also supports mobile service teams. In addition, the app offers GPS positioning and the possibility to store photos of damage to ensure fast and precise maintenance. Repairs that can be carried out directly on site can be processed and documented without an additional maintenance order. In addition, defect-related checklists and repair instructions are available on the smartphone to facilitate the processing of maintenance orders.
---
Webinar
Digitalise and optimise maintenance with mobile assistance systems
In the webinar, we will show you how mobile assistance systems can provide enhanced support in the maintenance process using various use cases
in German language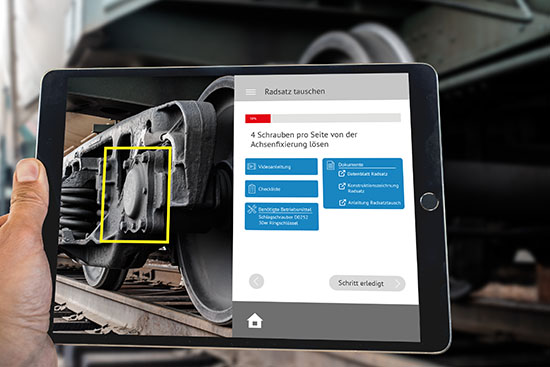 ---
The app offers online / offline functionality and is fully functional even with insufficient internet connection. Digital recording eliminates media breaks and the data is available in real time in the central maintenance management system for maintenance planning, condition assessment and forecasting. This increases transparency about current disruptions and their effects on vehicle availability. Maintenance and repair orders can be documented directly and promptly on site after execution. Subsequent entries are thus superfluous, which significantly improves the documentation quality. All responsible persons get an overview of the current status of the orders - open, started, completed.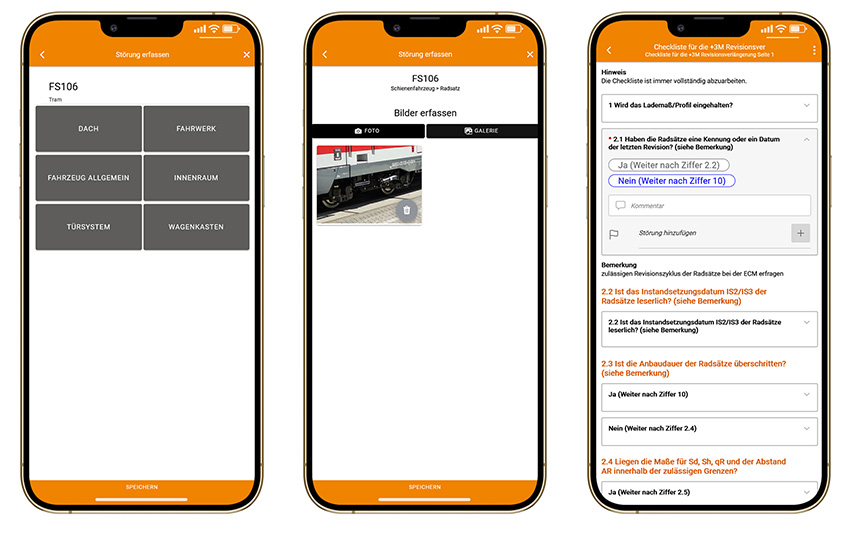 Advantages of the zedas®asset Smart app for maintenance
Structured and simple fault and error detection based on assemblies
Standardised work steps and flexible adaptation to the company's own workflows
Clear overview of recorded faults avoids duplicate entries
Defect-related checklists and repair advice
No media discontinuity due to complete integration into the entire maintenance process
On- and offline functionality ensures self-sufficient work even without a stable network connection
Photo documentation
Digital assistant especially for the railway workshop
When a railway vehicle comes into the workshop, the workshop employee often receives the maintenance order in paper form. In order to process the work orders, he must know exactly which steps he has to complete and when. Once the maintenance measures have been completed, the workshop employee also documents them on paper again and then has to manually enter them into the maintenance management system. The lack of digitalisation creates a lot of coordination work between the individual departments and additional work due to duplicate documentation. Manual recording also leads to media disruptions and an increased error rate.
The digital assistant zedas®asset Touch, specially developed for railway workshops, completely digitalises the previous paper-based maintenance documentation and takes into account the special working conditions in workshops. Orders are processed directly on the tablet, material costs, working hours and used resources can be documented in an uncomplicated manner, meter readings and subsequent faults can be recorded and the vehicle can be released again after maintenance has been carried out in an ECM-compliant manner. Assistance-based workflows and checklists guide the workshop employee step by step through the maintenance measures. This makes it possible for even inexperienced workshop employees to document all necessary steps, material consumption and component changes easily, completely and without errors.
When developing the digital assistant, the working conditions in the workshop were taken into account. The intuitive user interface of the workshop assistant provides a quick overview of all user-specific activities. Keyboard entries by the workshop employee are avoided as far as possible and replaced by touch or alternative functionalities - such as scanning a QR code to document material consumption or voice input to describe technical problems. With zedas®asset Touch, workshop personnel work directly in the asset management system. This means there are no media discontinuities, double entries and no traffic jams when it comes to order feedback or operational releases. Thanks to the central data storage in zedas®asset and the direct access to the required information by the workshop staff, lengthy queries are reduced.
The digital assistant helps the workshop personnel to do this:
Document material consumption,
to record working hours, measured values and consequential faults,
Complete and work through checklists and release the vehicle.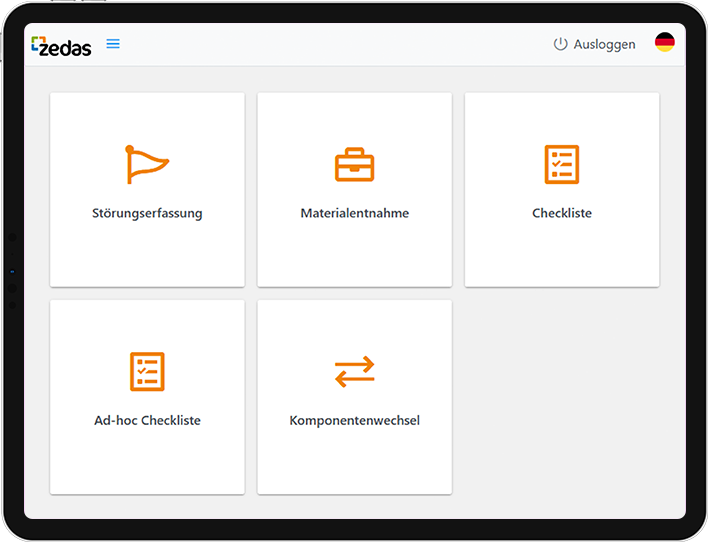 Benefits for management through the use of the digital assistant:
Building an efficient, digital process chain
Complete and consistent database as the basis for reliable forecasts
Increasing employee satisfaction by simplifying processes
Low training effort due to assistant-based workflows and intuitive handling
Overall, the use of the digital assistant zedas®asset Touch offers numerous advantages that contribute to more efficient maintenance. The assistant-based workflows and intuitive operation make the work of workshop employees easier and significantly reduce the error rate. In times of a shortage of skilled workers, a digital workshop assistant is a real support. Young workshop employees are already demanding the paperless workshop.
Support for ECM-compliant documentation through digital applications
The Implementing Regulation (EU) 2019/779 - or ECM Regulation - has played an important role for the majority of rail vehicle owners and workshops for rail vehicles since 2019 at the latest. The topic took on new explosiveness in 2022, because certified ECM systems must be set up for all rail vehicles as of June 2022.
The aim is to increase safety in rail transport. zedas®asset offers modern asset management systems and mobile solutions to support the legally compliant ECM standard. The digitalisation of maintenance processes offers many synergies.
How does ECM-compliant documentation work?
For this purpose, personnel and equipment information is first maintained. Employees receive certain time-limited certifications and qualifications, while equipment such as measuring devices are assigned clearly identifiable units (e.g. wheelset measuring device, serial number 2483) to which certificates or proofs (e.g. last calibration) can be assigned. The validity and deadlines of certificates can be monitored.
When a work order is processed by a workshop employee via the digital assistant, the equipment used and the personnel performing the work are entered in the confirmation in an audit-proof manner. This documents that the work order was carried out by an authorised employee and that valid equipment was used. A complete record with all documents and protocols is available, is transmitted digitally and is immediately available for operational approvals. All information is recorded in a seamless digital CV file.
Overall, ECM-compliant documentation through digital applications such as zedas®asset offers an efficient and secure way to optimise the maintenance of rail vehicles and increase safety in rail transport.
---
Book your software demo
Take the chance and book your software demo. Which functions are you interested in and which goals do you want to achieve with zedas®. We will be happy to help you and arrange a desired date with you.
Book a software demo now
---
Conclusion
Mobile assistance systems have become essential in today's maintenance. The use of applications for smartphones and tablets, including clever assistance systems, facilitate data collection, processing and documentation of maintenance measures. zedas®asset offers mobile employees, such as locomotive drivers and workshop staff, easy-to-use apps that significantly simplify and optimise the processing of maintenance measures. The software offers comprehensive functions that provide access to all information such as plant history, documents and messages relating to the order. Processes are standardised, agreements and errors are reduced and media breaks are eliminated. However, mobile solutions alone are not sufficient for efficient maintenance. Effective digital maintenance requires seamless integration of mobile applications and the maintenance management system.