Predictive wear prognosis for wheelsets - zedas®asset Wheelset Analyser
Successful wheelset management from measurement to demand planning
Digitalisation in the railway industry creates new opportunities for monitoring and maintaining vehicles and equipment. With the zedas®asset Wheelset Analyser module, wheelsets can be maintained in a predictive manner. The module visualises the wear progression of the wheelset and predicts the point in time at which the limits are undershot. This enables precise planning of wheelset reconditioning or replacement.
The integrated dashboard for wheelset monitoring offers functionalities to
Visualisation of the wear progression at different measuring points of the wheel or axle
Prognosis of the point in time when the limit values for the wheel diameter are exceeded or not reached, as well as other measured variables
Determination of the remaining service life and remaining mileage
Automated transfer of the calculated data to maintenance planning
---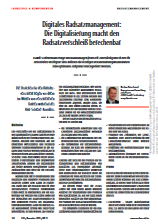 Eisenbahntechnische Rundschau
Digital wheelset management:
Digitalisation makes wheelset wear calculable
---
The histories of the wheelsets in the same vehicle can differ greatly, e.g. because certain axles had to be replaced prematurely due to defects. As a result, each wheelset has to be monitored separately in terms of mileage covered, damage experienced and measured value development.
Due to the amount of data and the special requirements, the management of the wheelset data is quite time-consuming without special software support. Many engineers responsible for planning keep Excel lists in which, on the one hand, the measured values are listed and, on the other hand, the due dates of the wheel revisions are calculated. However, reliable and well-founded forecasts and analyses are difficult or almost impossible to realise manually or with isolated IT solutions. The data collected and necessary for a meaningful forecast are usually too extensive.
A digital asset management system such as zedas®asset supports the evaluation of the large amount of data and the integration of the analysis results in the complex maintenance processes. The goal is to predict maintenance dates early and precisely. The system uses measurement data from various measurement systems that are integrated via standardised interfaces. zedas®asset takes into account all historical data and planned maintenance data of the wheelsets. Each measurement refines the wear forecast.
In the integrated dashboard, the maintenance planner can use variable filters to display a graphical wear forecast for individual wheelsets. The graph shows the predicted course of wheelset wear, the kilometre reading and the date when the warning threshold and the limit value are expected to be undershot. The planning of maintenance measures and component changes is now based on current forecast values.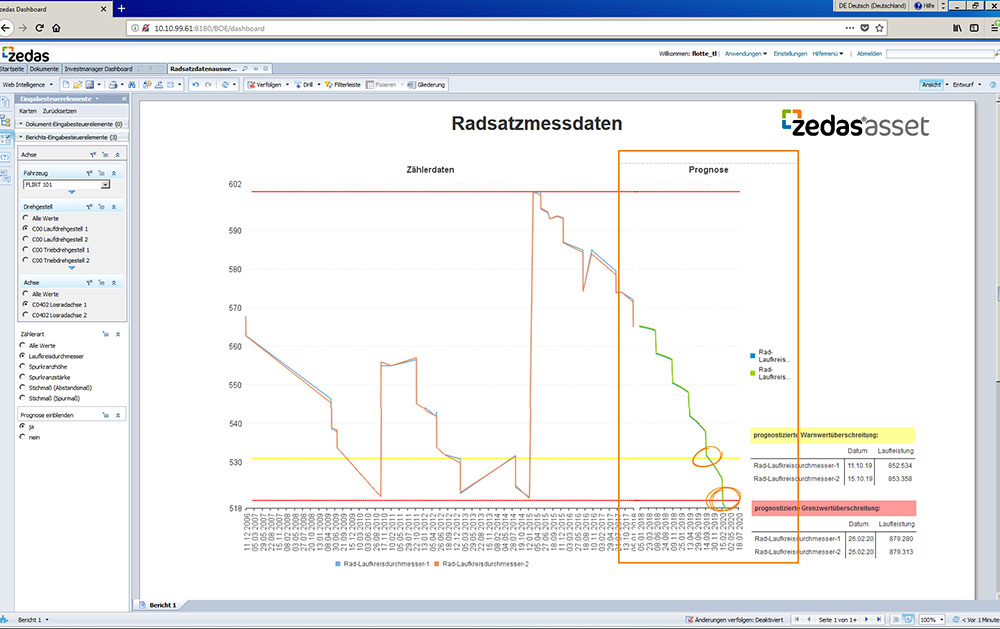 ---
Book your software demo
Take the chance and book your software demo. Which functions are you interested in and which goals do you want to achieve with zedas®. We will be happy to help you and arrange a desired date with you.
Book a software demo now
---