Augmented reality for the smart railway workshop
Assistance system for intelligent maintenance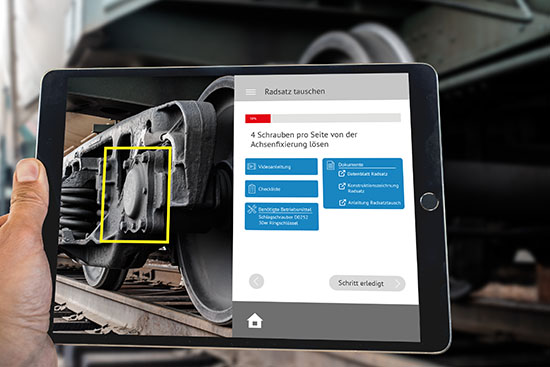 08.09.2022 | In a joint research project with BLG RailTec GmbH and BTU Cottbus-Senftenberg, ZEDAS GmbH is working on an augmented reality (AR) application for the data glasses and tablet. With the AR application zedas®asset Assistant, the maintenance technician in the workshop is better guided through the maintenance process.
The aim of the zedas®asset Assistant application is to improve the quality of work and safety with the help of AR. Depending on the situation and object, information is displayed to the user where it is needed: Directly in the field of vision and on the object concerned.
Job orders, faults and checkpoints are displayed via AR directly from the screen section with the wagon symbol. In this way, the maintenance technician knows immediately which components include job orders. As further support for the step-by-step instructions, the application displays measured values, limit values or circuit diagrams that belong to the component being worked on.
Highlights of zedas®asset Assistant at a glance:
Clearly defined workflows provide the maintenance staff with the sequence of work steps
Automated ECM-compliant documentation
Component-related safety instructions
Additional information such as history data or circuit diagrams are displayed at the right time on the right component
Large knowledge repository that can be accessed by new, long-term and external employees
You want to know more about zedas®asset? Then click here.
---
You don't want to miss any more news?