Major order in Canada for rail software specialist ZEDAS
Asset Management for Transportation Network in Greater Toronto and Hamilton Area (GTHA)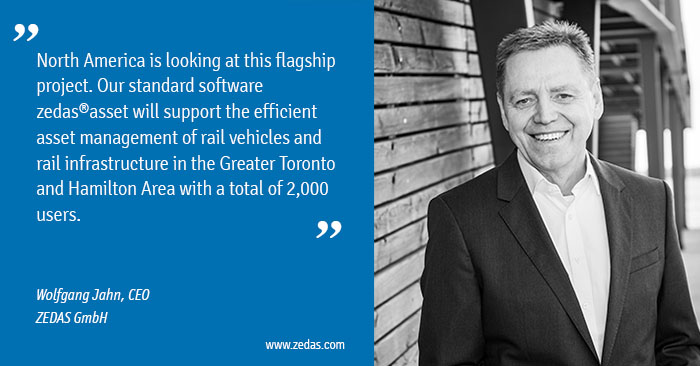 04.01.2023 | With ONxpress Transportation Partners, ZEDAS GmbH welcomes the second new customer from Canada that relies on zedas®asset asset management system for rail vehicles and infrastructure. The mass transit operator Metrolinx has commissioned ONxpress, a multinational consortium including Aecon, Alstom, DB International Operations (part of the E.C.O Group) and FCC Construcción, to take mass transit services in the Greater Toronto and Hamilton Area to a completely new level of development.
The initial situation
Currently, about 7 million people live in the Greater Toronto and Hamilton Area; by 2041, there will be over 9 million people. Travel demand will also increase by over 50%. Problem: Much of the current transportation network is already congested.
The ONxpress consortium are facing this challenge, working alongside Metrolinx. The route network is to be extended by 205 km and the frequency of the trains increased - all this in a cost-conscious manner while decreasing travel times.
Flagship project
"Unprecedented in its scale and complexity, this project will transform the GO rail network with electrification, more frequent service, shorter journey times and a more modernized system for the Greater Toronto and Hamilton Area." ONxpress (website)
"North America is looking at this flagship project. Our standard software zedas®asset will support the efficient asset management of rail vehicles and rail infrastructure in the Greater Toronto and Hamilton Area with a total of 2,000 users. In the course of the project, we want to significantly expand our presence in the North American rail market," says Wolfgang Jahn, Managing Director of ZEDAS GmbH.
"Following our recent success in South America, the sales of our software, which can be used worldwide, will be further boosted by this project win in Canada," said Thomas Landskron, Head of Sales at ZEDAS GmbH.
Use of zedas®asset for maintenance
ONxpress has chosen the zedas®asset software solution in a multi-stage selection procedure. The aim is to digitize and automate maintenance processes in the areas of rail vehicles and rail infrastructure in order to simultaneously reduce maintenance costs and ensure the reliability and safety of the systems. The rail software specialist was able to assert itself on the basis of many years of market experience and in-depth rail know-how. Furthermore, innovative offers for mobile working, the mapping of railway-specific assets and good interface connections to external systems tipped the scales.
zedas®asset is scheduled for use from 2024.
Read more here:
Mosaic Transit Maintenance GP from Canada relies on German rail software specialist ZEDAS