Successful webinar: ECM-compliant documentation and operational approval
High number of participants illustrates the topicality of the issue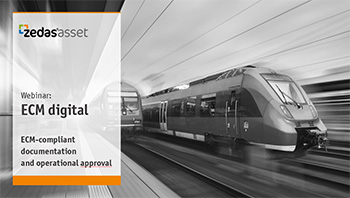 25.03.2022 | On 10 March 2022, ZEDAS continued its successful webinar series and showed in their german webinar how operators and maintainers of rail vehicles are supported by the zedas®asset ECM module in ECM-compliant documentation and operational approval. With a total of 218 registrations and 120 live participants, the topicality and interest in the subject matter is clear.
The participants were guided through the informative presentation by the experts Thomas Landskron, Head of Sales, and Christian Krauß, International Sales Manager. This was followed by a lively round of questions:
As a fleet operator, how can the various workshops be integrated?
Can the qualifications of the employees be stored in the system?
Can components be marked as safety-critical and safety-relevant?
etc.
Due to the great interest, ZEDAS has decided to hold the webinar again in English on 12 April 2022, 2 pm (CEST) - register directly here!
Would you like to learn more about the asset management of rail vehicles? Then click here.
---