zedas®cargo: Duty roster for employees via web access
The software solution zedas®cargo for the management of logistics processes in rail freight transport has the modern module zedas®cargo Web Connect S, which supplements the existing locomotive and personnel planning
With the help of personalized web access, every employee can call up their work schedule online. Thanks to the web-based solution, the user can use the module from anywhere via smartphone, tablet or PC and view the work planning data.
The solution is particularly suitable for engine drivers, who use the solution to call up the tours planned for them (duties) and the respective tour contents such as travel times, train journey information, etc. online. Since the duty rosters are generated directly from the locomotive and personnel planning by zedas®cargo, the information is always up-to-date.
---
Book your software demo
Take the chance and book your personal software demo. Which functions are you interested in and which goals would you like to achieve with zedas®? We will be happy to help you and arrange an appointment with you.
Book a software demo now
---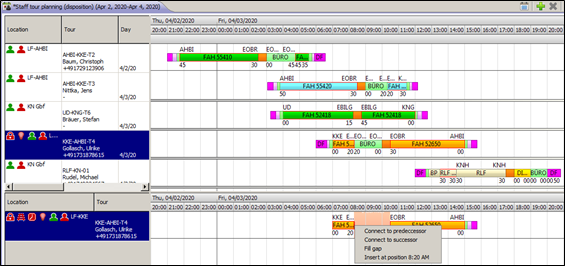 Example of shift planning in zedas®cargo/p>
Easy creation of staff trips and shifts
zedas®cargo supports railway companies in the planning of personnel tours and services in compliance with all applicable working time regulations and collective agreements. The basis for planning personnel shifts are the personnel requirements, which are created on the basis of timetable data. These are connected to configurable shift elements such as breaks, etc. The tour and duty elements can be easily combined using drag & drop, thus enabling quick and clear handling. Regular services and tour cycles can already be prepared in the long-term planning and thus make day-to-day work easier.
Personnel deployment planning by employee assignment
In personnel deployment planning, employees are assigned to the respective services. During planning, the defined regulations monitor automatically applicable working time regulations, collective agreements, medical suitability, driver's license class, knowledge of locomotive series, route knowledge and much more. Tours and services that do not comply with the rules (e.g. infringing working hours) are visualized for the planner using understandable symbols. Holidays, sick days, days off and clock changes can be taken into account on an ongoing basis.
Simple duty scheduling in the railway sector
The functions and advantages of zedas®cargo Web Connect S at a glance:
Always up-to-date duty rosters<
Always up-to-date billing data
Simple and clear presentation
Solution is available everywhere via web access
Online access is device-independent
User-specific access and view
---
Read more about zedas®cargo - Software for rail freight transport
---