Predict the lifetime of wheelsets with zedas®asset
Predictive maintenance prevents rail vehicle breakdowns
Environmental influences, the force effect during braking, but also the generally high loads, have an effect on the wear of wheel sets. Therefore it is extremely important that they are regularly serviced and measured.
The "Digital Assistant" Wheelset Analyser enables you to plan the service life of wheelsets precisely and, above all, with foresight. The measured data of the wheelsets are directly imported into the central asset management system via interfaces and used for analyses and forecasts. All parties involved, such as workshop employees, maintenance coordinators and purchasing, are provided with condition forecasts.
The zedas®asset Dashboard visualizes wheel set wear and additionally shows the optimum time for the next measurement, reprofiling and wheel set change well in advance.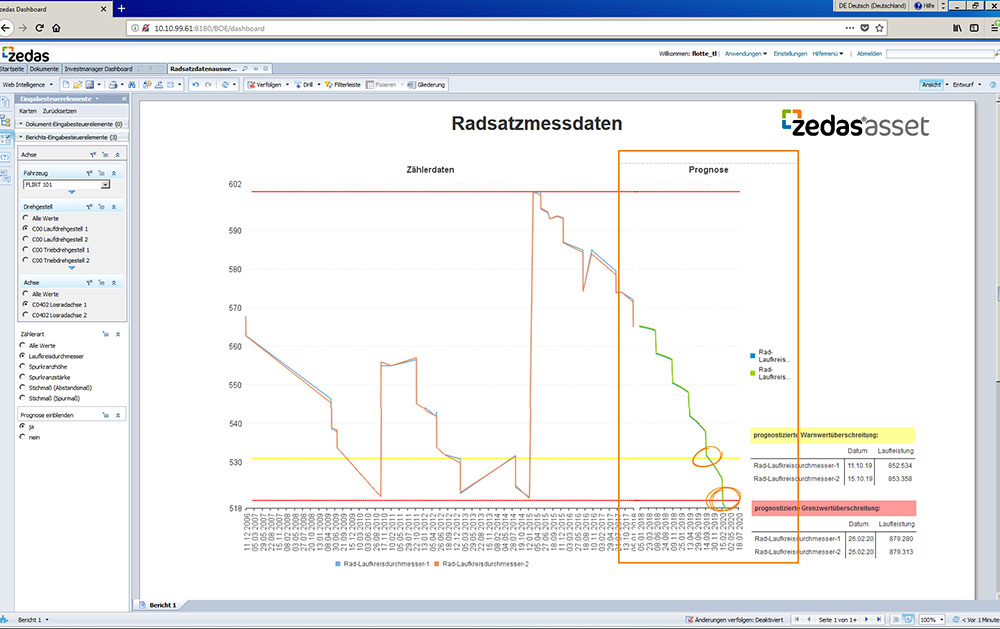 This approach minimizes downtime, but at the same time reduces working time, spare parts, storage costs and other maintenance costs. Permanent monitoring makes the forecast ever more precise.
Be sure that you can optimize your maintenance with meaningful forecasts of the service life of your wheelsets.