zedas®asset Invest Manager – InnoTrans Highlight 2018
IT specialist combines know-how about forward-looking investment planning for transport companies in a new module
25.06.2018 | The planning of requirements and investments for systems maintenance and replacement over the next 20 to 30 years plays an increasingly important role in railway undertakings and railway infrastructure companies. ZEDAS GmbH, the specialist in maintenance and systems management for railway companies, will support its customers in the planning of the necessary investments with the new Invest Manager module in the zedas®asset product suite.
Railway undertakings (RU's) requirements for flexibility, security and performance are increasing. This affects the effective use of the RU's available resources. In a well-managed transport operation and service business, there is plenty of expertise available. What could be more appropriate than using this knowledge for optimal planning of future investments? But until now, companies have been lacking a simple solution which combines this knowledge with maintenance data and allows the user to generate planning variants based on a variety of scenarios. The new zedas®asset Invest Manager module allows for a forecast based on real data. This leads to detailed, punctual and well-founded budget planning, as a result of which the company's competitiveness increases.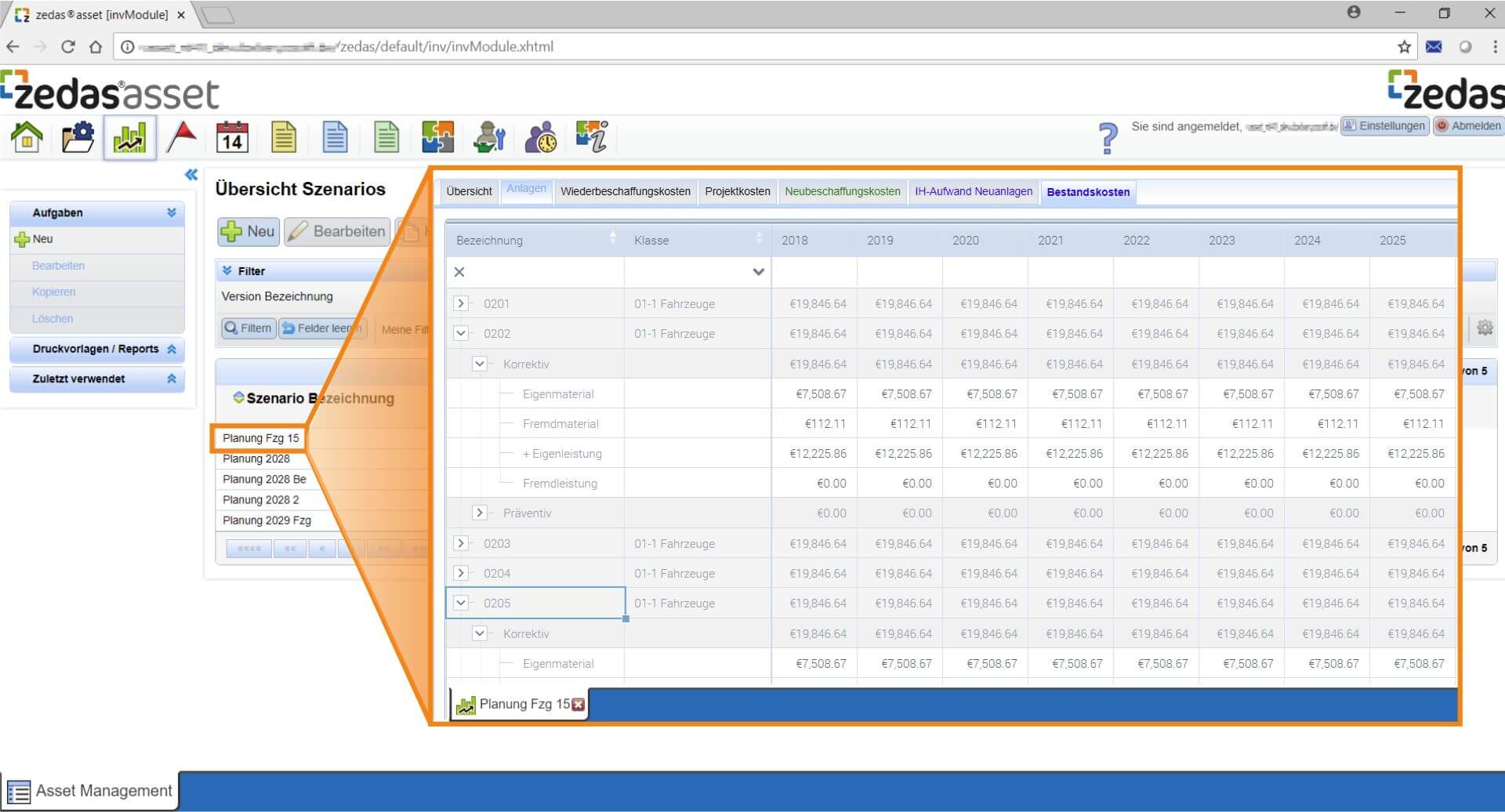 Figure: Creation of planning scenarios in zedas®asset Invest Manager
Generation of planning scenarios
The system-specific maintenance history, with master, cost and condition data, and the preventive measures preview in the zedas®asset asset management system provide an excellent basis for the determination of requirements for the future. The user can vary the aggregated annual data for each system in accordance with their expectations. The use of freely selectable factors to easily modify the planned costs helps to model and forecast the future influences on the investments as objectively as possible. Comparative consideration and simplified decision-making can be realised through the generation of multiple planning scenarios. Comprehensive reporting helps the user to evaluate the results. Selected data from a finalised planning scenario, for example data concerning future renewals and replacements, can be applied in the existing zedas®asset planning of measures. The planning of measures for system maintenance and procurement can now easily be done effectively, with time savings and with a well-founded database. It is possible to react quickly and precisely to changes, e.g. new regulations for transport service or availability. Planning staff and controllers, as well as the companies service units such as workshops, particularly benefit from the new functions.
Further information about our solution zedas®asset can be found here.