transport logistic 2019
04th - 07th June, 2019 (Munich, Germany)
Single showcase for all solutions: transport logistic
transport logistic, leading international exhibition for logistics, mobility, IT and Supply Chain Management, presents the entire value chain and the major international market leaders out of the transport and logistics sector. 52.000 trade visitors, among them a high proportion of executives with decision-making powers on investment, from 110 countries, are proofing the undisputed position of this leading trade fair in the logistics branch. Put the dates in your diary.
We invite you to join to see the advantages and benefits of our solutions. Both zedas®cargo for the management of rail logistics and zedas®asset for asset management of vehicle fleets and infrastructure will be presented live from our experts.

Convince yourself at our booth in Hall B4 | 425A.
We are looking forward to see you on transport logistic 2019 in Munich! Learn more!


Arrange an Appointment:
Please feel free to arrange an appointment for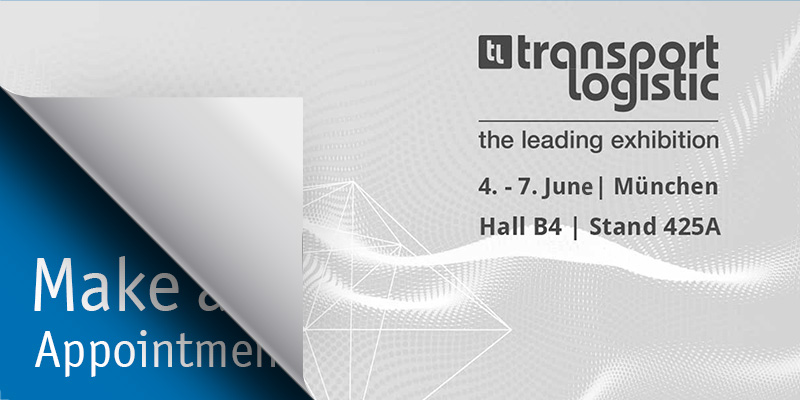 Highlights transport logistic 2019
zedas®cargo Rail Hub – The logistics platform for digital transport management
Digitize your logistics management with the web-based customer portal Rail Hub. The interface between rail freight company and its customers simplifies the processing of transport orders.
Learn how the Rail Hub optimizes your logistics processes
zedas®cargo Opti Planner – Personnel planning at the push of a button
The personnel allocation in rail transport is very extensive and often plans have to be adjusted due to unexpected breakdowns or changes. With the new solution from zedas®cargo, the planning process for the deployment of all employees is both automated and optimized!
Find out how you can relieve your planners and increase employee satisfaction!
zedas®asset – ECM-conform workshop documentation for rail vehicles
The complete recording of component changes, the consumption of time and material as well as the condition information of vehicles automatically generates a complete plant and vehicle history, whereby the required ECM-conform workshop documentation is mapped.
zedas®asset – integrated asset management for railway systems
With zedas®asset, all processes of the technical asset management process are digitally supported throughout. Capture condition data directly on site in the track and integrate measurement data, defect assessments, repairs into condition forecasts and investment planning. Determine your needs and investments for plant maintenance and procurement for the next 20 to 30 years.
Click here to find out how to digitise your railway systems and maintain them on the move!
In advance:
zedas®cargo - logistics solution for shunting and long-haul traffic
zedas®asset - management solution for vehicle fleets and technical assets